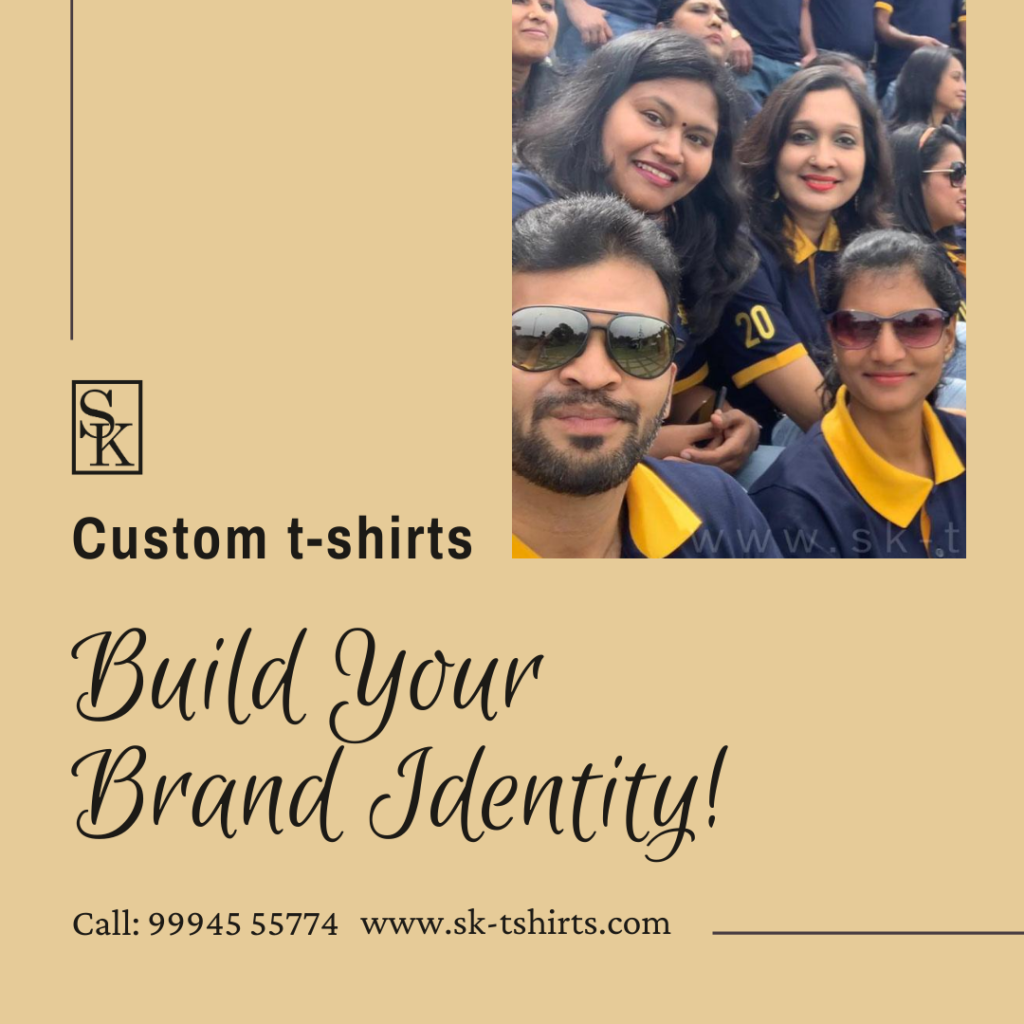 How to promote your new brand/product/services or how to reach more people in a short period? Simply by using customised t-shirts! They can be ordered with SK Tshirts, Tirupur who deliver all over India.
How do the custom made t-shirts help reaching people? The custom made t-shirts will have our brand name and other details about our product or services printed prominently on the t.shirts. The logo and brand name can be put in the front, sleeves and the back of the t.shirts.
Why SK t-shirts and Can they be made in all styles and varieties as per our requirements? Yes. They can be made in all styles and patterns as per our wish and the logo/matter can be printed or embroidered also. All types of printing can be done.
What is the minimum quantity that can be ordered? Though minimum order quantity with SK Tshirts is 100 pieces, lesser numbers can also be made on specific requests.
How the custom made t-shirts help in promoting our new Brand/products/services? Custom made t.shirts with our product logo and details are mainly used by our staff and workers as uniform who will act as our mobile bill boards spreading the news about the company or business all around the place.
Why SK T-shirts are the best in making custom made t-shirts? As they are in this business for the past 25 years with their own state of the art t-shirt factory, they can cater to any type of requirement of the customers at very short notice. They have a well experienced team for all processes.
What is the cost of a customised t.shirt? It depends upon the style, fabric, quantity, print design etc. The approximate range would be from Rs.100/- each to Rs.400/- each based on many factors.
Wish to see sample images of the t-shirts? Please check out the gallery section of the website to see lot of t.shirt photos.
SK T-Shirts have ready stock of fabric for all types of t.shirts in basic colors like white, black, navy blue, royal blue, red, maroon, grey heather, yellow, desert sand, sky blue, hunter green, aqua blue, ivory and black mélange. Other specific colors can also be supplied provided the quantity is 100 pieces or more per color and sufficient delivery time is given. The t.shirts cost will also be little higher.
Get in touch with SK T-shirts for all your customised t.shirt requirements.
or mail: info@sk-tshirts.com / Call: 99945 55774
For more images of tshirts check our Facebook page