Polo t.shirts are typically thought to be named for designer Ralph Lauren, whose Polo line is quite popular. However, that is not so. The polo shirt is a knitted, pullover-style, sport shirt that features a knitted collar.
In what material they are made of?
They are usually made from 100% cotton, poly-cotton, blended fabrics and polyester.
Is Polo t.shirt and Collar t.shirt are different?
Polo t.shirts which are also called as Collar t.shirts are the same. They are very much used by people all over the world without any exclusion.
Where are they used?
As they are very comfortable to wear, it has become hugely popular as a casual wear in the initial days. But now a days, it has become a most wanted outer wear as a uniform also.
Where all they are used as uniforms?
All businesses and services have started using them as a regular uniform wear with customization.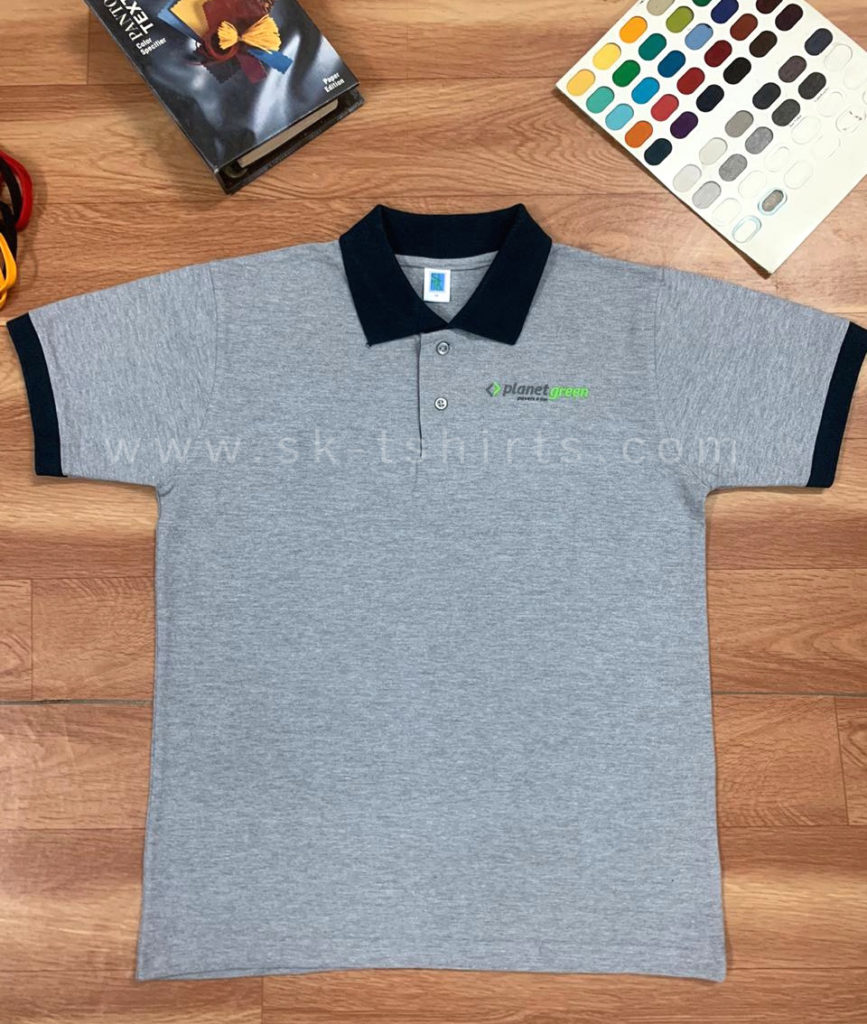 Which is the right place for customised polo t.shirts?
SK T-shirts in Tirupur, Tamilnadu is the right place for all your customised t.shirt orders.
What are the types of branding possible?
SK T.shirts , they can do branding through all types of printing and also by embroidery work.
How many t.shirts have to be ordered as minimum?
SK T-shirts are into manufacturing t.shirts for the past 26 years and any quantity from 50 pieces can be ordered with them.
What is the cost of the above shown Polo t.shirt?
The above shown polo t.shirt is made of 100% cotton in grey melange color and the collar and sleeve cuffs are given in Black color to make it look elegant. They were made for M/s.Planet Green, Pavers and Tiles Manufacturers based in Cochin . These are ordered as uniform for their staff and for brand promotion activities.
Which are the polo t.shirt colors available with SK T-shirts?
SK T-Shirts have ready stock of fabric for all types of t.shirts in basic colors like white, black, navy blue, royal blue, red, maroon, grey heather, yellow, desert sand, sky blue, hunter green, aqua blue, ivory and black mélange. Other specific colors can also be supplied provided the quantity is 300 pieces or more per color and sufficient delivery time is given.
Get in touch with SK T-shirts for all your customised t.shirt requirements.
For details please mail: info@sk-tshirts.com (or) Call: 99945 55774
For more images of tshirts check our Facebook page