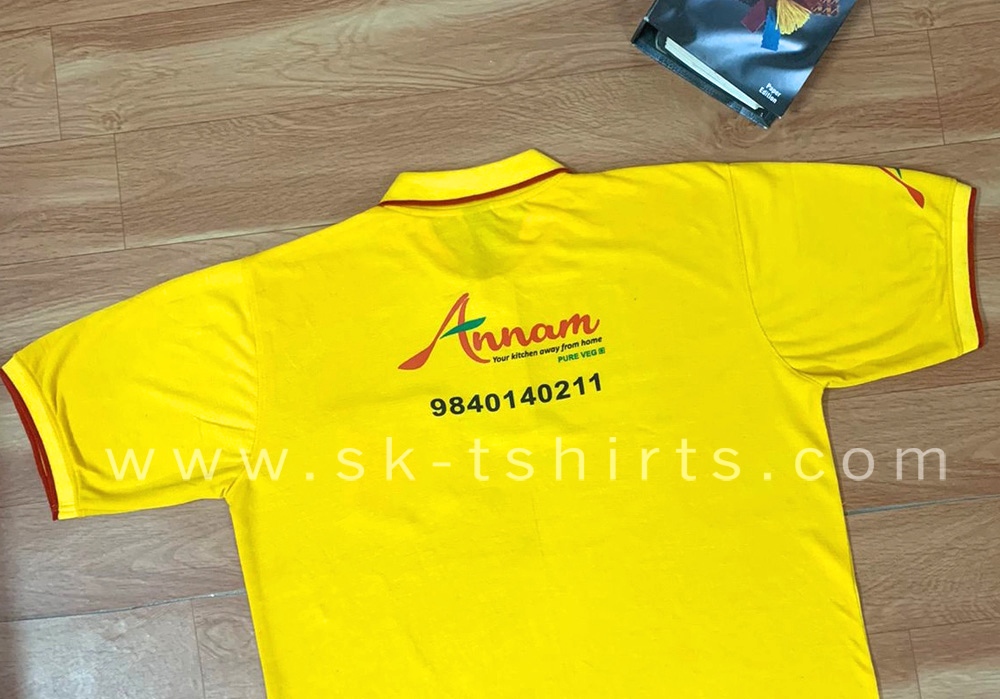 Where to order custom t.shirts designed and made with our logo printed for our restaurant/bar/cafe/catering services? 
At SK T.Shirts.
The above shown collar t.shirt is made in blended fabric for a catering services ' ANNAM' based in Chennai. Their logo and tagline and contact details have been printed at the front and back. They preferred blended fabric as it is easy to maintain and need not be ironed and can be just worn after wash.
Do they help in designing the tshirts, caps and face masks with our logo? Yes. Very much. SK T-Shirts help businesses design and make custom t-shirts, caps and face masks in two and three layers as per your requirement and type of activity.
Where do they have their manufacturing factory for t-shirts?
They have their our manufacturing facility at Tirupur in Tamilnadu, the nerve centre of knitwear industry in India.Their modern factory with state of the art machineries make high quality products like t.shirts, caps and face masks and the production capacity is 2000 garments per day.
Do they also make custom t.shirts, caps and masks as per our designs and requirements also? SK T.Shirts are pioneers in making customised t.shirts. They have more than two decade old experience in manufacturing customised t.shirts, caps etc. So they are the right people to make customised items as per any design given.
What are the styles or types of t.shirts , caps and face masks they make?
They specialize in corporate t.shirts, college t.shirts, school t.shirts, uniform t.shirts, dry-fit jersey t.shirts, ladies tops, track pants, sweat shirts, pullovers, hoodies, sportswear, promotional t.shirts, children t.shirts, embroidered t.shirts and caps with branding of names/messages/logos with printing and/or embroidery. They make two and three layers fabric masks which are made of pure cotton and washable and reusable.
Do they deliver the goods at our choice of place?
SK Enterprise can deliver t.shirts, sportswear, caps and other garments anywhere in India.Also they export to other countries also.
What is the cost of a customised t.shirt, caps and face masks? It depends upon the style, fabric, quantity, print design etc. The approximate range would be from Rs.100/- each to Rs.400/- each based on many factors. Caps would cost around Rs.50/- to Rs.150/- for various styles and make. Face masks will cost from Rs.20/- to Rs.50/-.
What kind of materials or fabrics they offer?
The t-shirts are available in cotton, poly-cotton and polyester (jersey). Caps are also made in cotton or polyester fabrics depending upon the purpose. Face masks are made in cotton and cotton-lycra fabric for that elasticity.
Wish to see sample images of the t-shirts, caps and masks ? Please check out the gallery section of the website to see lot of t.shirt photos.
SK T-Shirts have ready stock of fabric for all types of t.shirts in basic colors like white, black, navy blue, royal blue, red, maroon, grey heather, yellow, desert sand, sky blue, hunter green, aqua blue, ivory and black mélange.
Other specific colors can also be supplied provided the quantity is 300 pieces or more per color and sufficient delivery time is given. The cost of the t.shirts will also be little higher.
Get in touch with SK T-shirts for all your customised t.shirtrequirements.
or mail: info@sk-tshirts.com / Call: 99945 55774