SK Tshirts are into making Corporate Custom polo t-shirts for Annual meets/ Events/ Conferences/ trade shows/ GTG etc., having their own state of the art factory in Tirupur ,Tamilnadu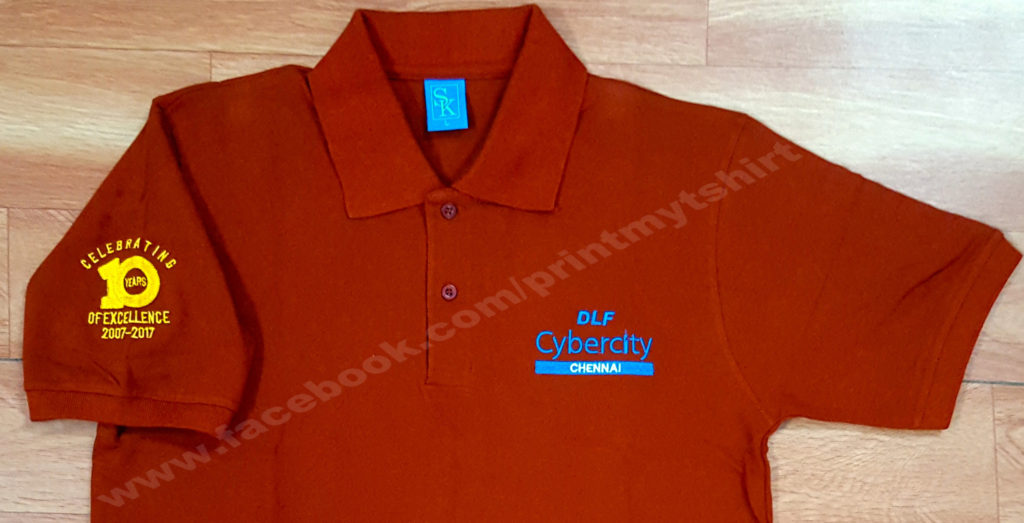 The above collar t-shirt in red color was made for m/s.DLF Cyber City, Chennai for their 10th year celebrations. These Polo Tshirts were given to all their employees and also guests as souvenir tshirts.
T-shirts are delivered in Chennai, Bangalore, Mumbai, Hyderabad, Vizag, Trivandrum, Cochin, Delhi, Pune and all over India
Corporate t-shirts – round neck t-shirts, collar t-shirts, polo t-shirts, hoodies etc are all made as per the requirements of the companies.
These were made of 100% cotton combed yarn and processed in soft-flow dyeing and finishing.
For more details check out our Website and
for more images of tshirts check our Facebook page
or mail: info@sk-tshirts.com
or Call: 99945 55774