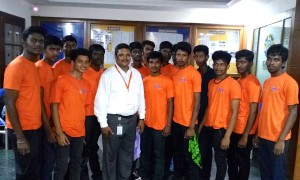 We wish to introduce 'Employability Bridge' a smart and futuristic platform that enables companies access to eligible students and provides students the ability to understand the expectations from the companies ahead. Employability Bridge is the only platform that matches the expectations from both students and companies through continuous engagement. Their intelligence enables student success through participation and provides easy access to eligible students from multiple colleges in a single day through FLAG.
For more details check out: www.employabilitybridge.com
We are happy to have manufactured and supplied t.shirts for their 'FLAG' programme held recently at 'Easa College of Engg & Tech' in Coimbatore.
#Tshirts #TrainingSessions #CollegeTshirts #TrainingProgram #TshirtsPrinting #CustomisedTshirts