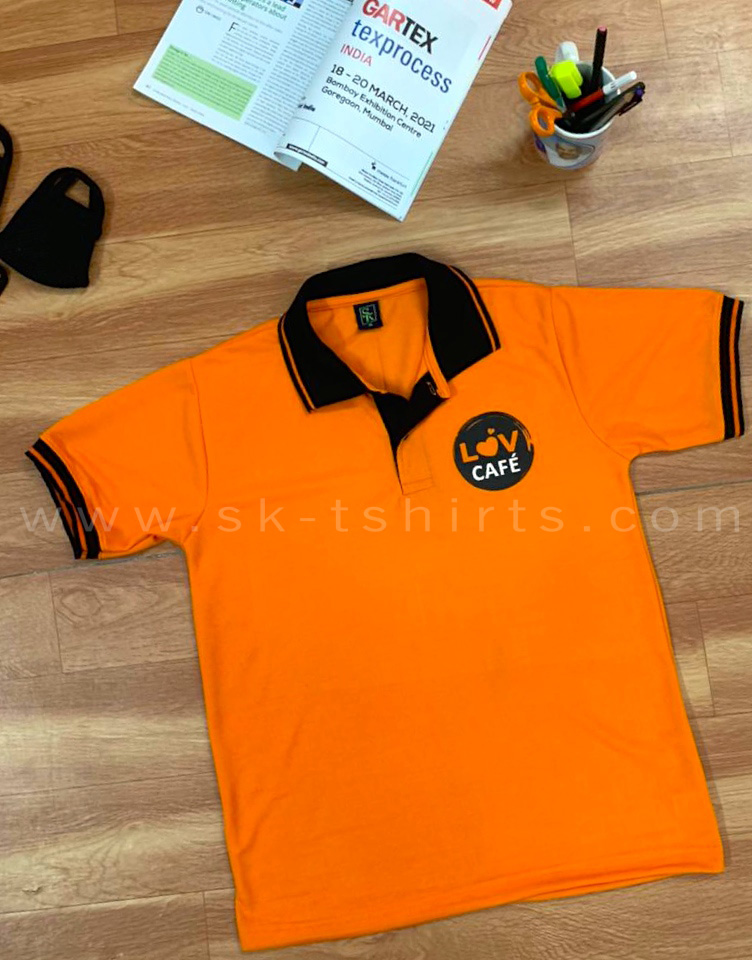 Do you want to order custom uniform polo t-shirts with logo printing or embroidery? SK T-shirts, Tirupur, Tamilnadu is that best only place for such custom orders, who deliver all over India.
The above uniform polo t-shirts were made for 'Lov Cafe' , the fast growing cafe chain started in Odisha. These t-shirts have been made in poly-cotton material for comfort and durability. The body and the collar and sleeve cuffs are all in orange color with border tipping in collar/cuffs.
"T shirt customizing = Meaningful Clothing."
Your custom t-shirts can now represent what you like.
They can represent your hobbies and priorities in life.
(Example): You might be a deeply spiritual person. As such, you can design a shirt to reflect that spirituality.
It could reflect any spiritual system that you admire.
Or, you might be deeply invested in a social cause. You can design a slick shirt to reflect that.
It could be any cause, from fighting social inequality, to helping abuse victims.
The logo has been printed on the front pocket and the name printed at sleeve and backside. Every month we have been supplying around 300- 400 pieces in order to cater to their fast growth.
Any quantity from 50 pieces can be made and delivered anywhere in the world.
How to know which is the best T-shirt printing technique:
There are different T-shirt printing techniques because they fulfil different needs but if you are looking for a quick answer on this and we had to pick one, we'd choose screen printing (for large orders).
*For more information on the different types of T-shirt printing techniques and customised T-shirts, don't forget to contact our printing experts. They are always more than happy to answer any questions you may have. Contact SK-Tshirts now!
or mail: info@sk-tshirts.com / Call: 99945 55774
For more images of tshirts check our Facebook page