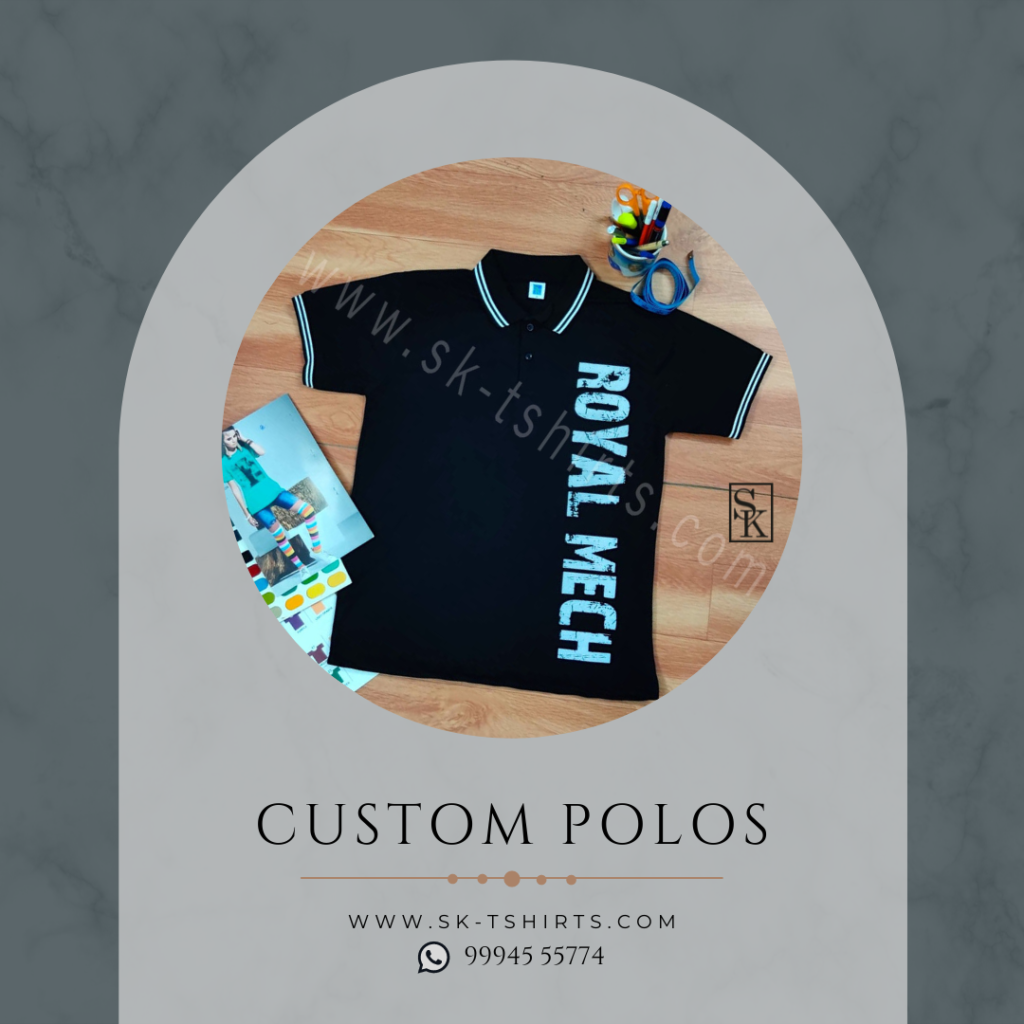 How can we create a professional image to our business? Create the much needed professional look with branded uniforms!
In fact, many businesses have found that custom work uniforms—like polo t-shirts and more—can unify a team and take the guesswork out of what to wear every day. Make your logo pop with these customised black polos! Make a silky smooth appearance at your next event with these custom work uniforms!
Which is the best and long lasting sales promotion article?
Customized t-shirts, caps and reusable face masks (in these carona times) are the best option to promote your new product or service.
What are the various types of sales promotion items?
There are various types of sales promotion articles like posters, flyers, newspaper ads, local cable TV ads, customized t-shirts, caps and face masks etc.
Out of the above posters and flyers will not be noticed by all and most of the people ignore the posters and also flyers. The newspaper ads and cable TV ads are little expensive and will not be able to afford by smaller companies. And in spite of the same, they will not stay in the mind of the people for long.
What are the advantages of custom made t-shirts, caps and face masks for sales promotion?
Because they are very cost effective, long lasting and create brand awareness and make personal contact with the people who wear it.
Cost effective: As compared to other forms of advertising like hoardings, T.V, etc. custom t-shirts, caps and masks are one of the most cost-effective ways to promote business. In addition to this, a good quality t-shirt and cap have a longer shelf life, helping brand in gaining visibility for a longer period. This has increased the demand of t-shirts.
Brand awareness: Putting a logo and other information about brand on custom t-shirts helps companies in creating brand awareness and drawing attention. They communicate the brand message in a more casual and friendly way. It can be worn anytime and anywhere and there is no chance that the person wearing it will get unnoticed.
Long lasting: A well made t-shirts and caps will last long enough for a year or so and hence keep reminding the brand or service every time the customer wears it.
Off-The-Clock Marketing:
Custom t-shirts are like free off-the-clock marketing tool. Well-designed t-shirts, caps and face masks encourage employees and customers to wear them anytime anywhere, thus helping companies in building brand identity.
In the above image, you can see t.shirt, cap and face masks made for M/s. Sri Thayar Rice, a new brand of Rice that is going to be promoted by a wholesaler of rice in Tamilnadu. They made 5000 tshirts, caps and face masks to distribute the same in their town where the rice brand is going to be launched. Once distributed, people will be wearing them or talking about them everywhere making the brand popular in a very short time.
To clear your various doubts about t.shirt making check out our website
To get custom printed t.shirts, caps and face masks as per your requirement at very reasonable rates and for very quick deliveries get in touchwith SK T-Shirts.
or mail:info@sk-tshirts.com / Call: 99945 55774
For more images of tshirts check our Facebook page