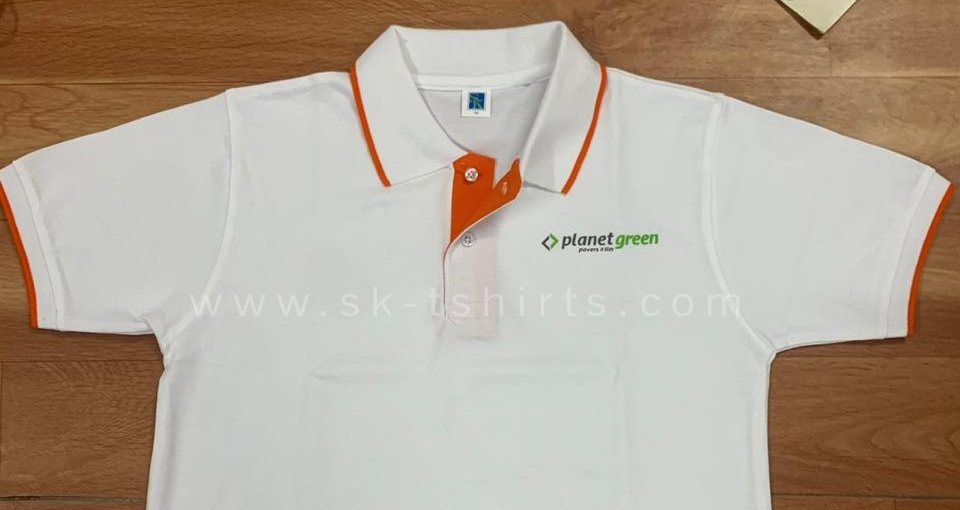 How to choose and order the right kind of customized t.shirts for your company staff or employees? First, your employees should like the t.shirts that you are going to give them and then only they will use them regularly. Secondly, as they represent your company's image also, sufficient care should be taken while selecting them. You can get the necessary and apt suggestions for the same from the pioneers of custom t.shirts making 'SK T.Shirts'.
What are the points to be looked into while selecting custom t.shirts? 1.Style: Though there are lots of choices available in selecting the model or style of the customized t.shirts, attention should be given to the image of the company or business that will be portrayed through them. Hence we have to select the right type of t.shirts like Polo or collar t.shirts for offices, service industries, factories etc. and basic crew neck or round neck t.shirts for fun oriented activities like theme parks, theme based restaurants etc.  And we can use hoodies type of t.shirts for casinos, game studios, parlors etc. Please check out 'about us' section of SK T.shirts to know more about the company and its services.
2. Fabric: The t.shirts are available in many varieties of fabrics like cotton, poly-cotton, blended fabrics, polyester or jersey etc.
Depending upon our business or industry we have to select the fabric. Learn more about the making of the t.shirts so as to decide on the right t.shirts.
3.Color: It plays an important role as the color should go with the house colors of the company or the logo. We should use proper t.shirts colors in tune with the industry also. For example food delivery or restaurant chains prefer red color, as it is the most preferred color all over the world for food related businesses. Likewise resorts and farmhouses use green as it represents nature. Look out 'gallery' section for more images of t.shirts to know how different industries use colors.
4. Printing the Logo and Name of the businesses on the t.shirts: The purpose of using customized t.shirts is to develop a unity among employees and also to highlight the company name and image among the public and our customers. Hence utmost care should be taken in deciding to imprint the name or logos at the appropriate places with correct sizes and colors.
You can get more details on various points regarding the above points at FAQS section of SK T-Shirts.
On the whole, selection of correct  customized t.shirts for your business is an important decision which you have to take taking into account all the above factors.
For example: The above polo t-shirt was made for a Kerala based company called M/s. Planet Green. This has been made in 100% cotton, white color with border tipping in collar and sleeve cuffs. The company logo has been printed on the chest.
To get custom printed t.shirts as per your requirement at very reasonable rates and for very quick deliveries get in touch with SK T-Shirts.
or mail: info@sk-tshirts.com / Call: 99945 55774
For more images of tshirts check our Facebook page