SK Tshirts offers a wide range of premium cloth face masks designed to provide protection and style. Crafted with high-quality materials, these masks ensure comfort and breathability while effectively filtering airborne particles. Available in various colors and designs, SK Tshirts' cloth face masks cater to diverse preferences, making them suitable for daily wear, work, and social settings. These masks boast a snug fit with adjustable ear loops, offering a personalized experience. Whether you're a fashion enthusiast or prioritizing safety, SK Tshirts' cloth face masks offer a perfect blend of functionality and aesthetics, keeping you protected with a touch of elegance.
Best Place For Customised Face Masks With Logo Or Message Printed
In order to prevent covid-19, we have been advised to use face masks everyday without fail. We can use surgical three layer masks which are made of non-woven fabrics. They are meant for single use only and have to be discarded after one use. Also it is in great demand due to larger demands from medical fraternity and hospitals. The cost is also high depending upon the situation and demand and supply.
Hence it is advisable for common people to use two or three layer fabric masks made in pure cotton or poly-cotton for better comfort.
They can be washed and reused for more than 50 times.
You can choose models depending upon your usage and budget.
There are lot of advantages in using fabric face masks. Some are listed below:
Surgical masks are in short supply: Surgical grade masks are not needed by members of the general public, a cloth mask will do the same job of preventing droplets from the nose and mouth from traveling as far and potentially infecting other people.
It is difficult to dispose surgical masks: The general public do not have the capabilities to follow this structured disposal and therefore masks will not be disposed of properly which risks both unnecessary contamination and the chance for masks to cause an adverse effect on the environment.
Saves Money: One mask can be reused over 50 times. So we save a lot of money.
Avoid contamination:No worry about disposing of them or unnecessary contamination.
Environment friendly: With the increased usage of surgical single-use plastic masks by the general public, and with them not being disposed of correctly, single-use masks can create a big environmental issue
Where to get customised face masks with printing? SK T-shirts in Tirupur manufacture customised good quality fabric face masks.
Why SK T-shirts? They are the leading company dealing in face masks with state of the art factory at Tirupur, Tamilnadu.
What is the minimum quantity? They accept orders from 200 masks onwards. They can manufacture any quantity within a short time as the capacity of their factory is 2000 masks per day.
What are the types of masks available with SK T-shirts? They make basically two types of face masks- two layer and three layer masks. And apart from that they make many models in each two layer and three layers like flat type, N 95 model, with fabric loops, with elastic loops , with elastic and adjuster, with filters etc.
Where To Order Customised Face Masks For Wedding Or Events Or Functions?
Get in touch with SK T-shirts to get customized face masks in bulk where you get a very good price and great quality. No matter where you are, they deliver all over India free of cost. All types of face masks are made – two layer, three layer, N.95 model in cotton, cotton-elastane and polyester fabrics.
Delivery at Chennai ,Bangalore, Hyderabad, Trivandrum, Cochin, Coimbatore, Madurai, Trichy, Tirunelveli, Thoothukudi and all over India. They can be delivered anywhere in India by courier or India postal services. Also export to other countries like Singapore, Malaysia, Dubai, Qatar, UAE etc.
The logo/name/slogan can be printed at front and back and on the masks as per your requirement. They do have their own designer to help you out in designing also.
Custom Face Masks With Logo Printing – Washable And Reusable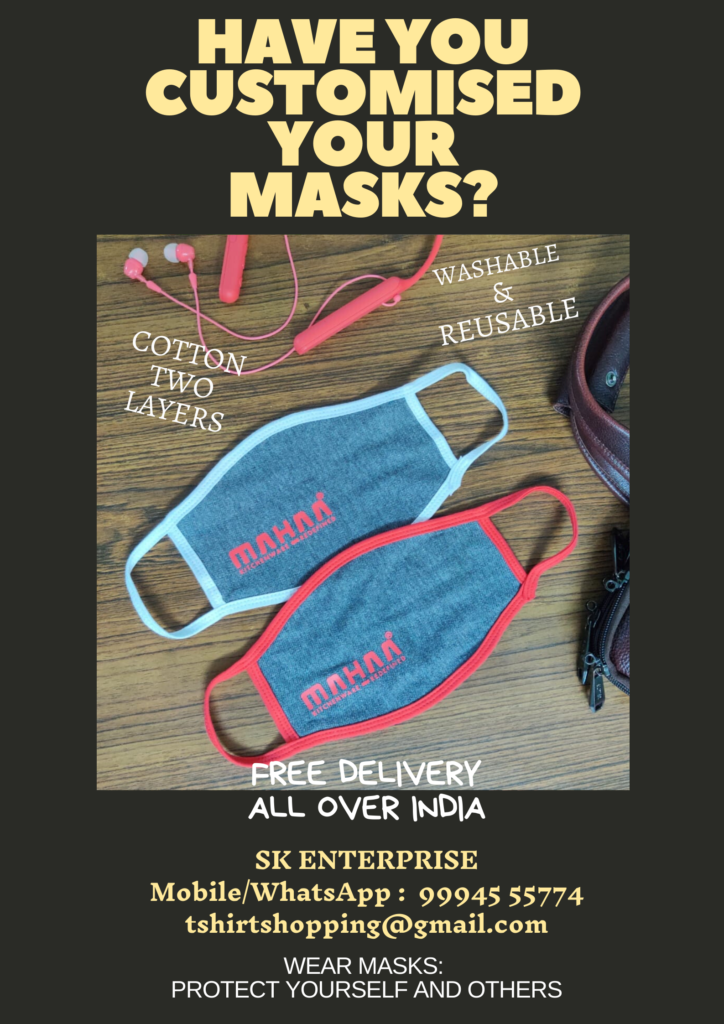 SK T-shirts are the leading manufacturers of custom t-shirts, custom caps and custom face masks in Chennai.
The above masks were made for a wedding with the names of the couple and date of wedding.
What are the styles/types of t-shirts, caps and masks the make?
They make all kinds of T-shirts, caps and face masks suitable for Uniforms, alumni, reunion, get together (GTG) t-shirts in very good quality and at reasonable rates.
Do they deliver at Chennai on time?
They make them at their own factory at Tirupur and deliver at Chennai, Bangalore, Hyderabad, Cochin and all over India at very short time.
Branding or logo printing can be done on t-shirts, caps and face masks?
Are these face masks made of good material ?
These are made of pure cotton fabric to give that soft feel and they are also comfortable so we can wear them through out the day without any discomfort.