Cotton Uniform Polo T.shirts for M/s. 4 Safe Solutions, Kerala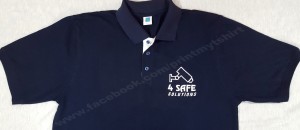 'M/s. 4 Safe Solutions' are into Electronic Security & Surveillance Systems in Muvattupuzha, Kerala. They wanted to make uniform for their field staff . They preferred 100% cotton t.shirts which will be cool and comfortable for the warm weather of Kerala. They selected dark blue color for the same. And the logo was printed in white color on the left chest. The tshirts looked simple and elegant.
And they gave the feedback that the workers are very happy with the t.shirts.