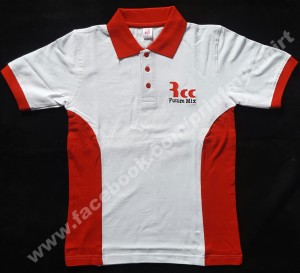 C
Uniform polo t.shirts made for RCC Futuremix.
These polo tshirts were made of 100% combed cotton fabric which is pre shrunk by a process called compacting. As the company logo is in red and black colors, they had designed the tshirts in Red and White combination. The logo is embroidered on the left chest. The tshirts are made with state of the art sewing machines and the quality assurance done on export standards.
Staff and workers expressed their fullest satisfaction on the quality, fit and finish of the tshirts. Being made in Cotton, it was cool and comfy for them to move around even in hot weather.